Form a bond like no other.
Specializing in horseback riding lessons and horse show coaching, Someday Stables is a leading stable in northern NJ.
With a passionate training staff that can teach everyone from kids to adults, we are proud to be one of the top barns in Essex, Somerset, Hunterdon and Morris Counties. We have trainers who are proven at bringing young riders to the top levels of the sport and helping them compete successfully at some of the most prestigious horse shows in the country.
Whether you are already a horse owner looking to become more competitive or you are a parent wanting your children to get involved in the sport, the caring and nurturing environment at Someday Stables will be the perfect fit for you.
Connect with us on Social Media:
Horseback Riding Lessons
The bond you form when riding a horse is unlike anything you've ever experienced. Whether you're 5 or 35, horseback riding lessons at Someday Stables are all about setting a solid foundation and advancing from there. We have the expert knowledge needed to take riders to the next level and the tools to start beginners out correctly. Families throughout northern NJ have fallen in love with the staff at Someday Stables and our stable of horses.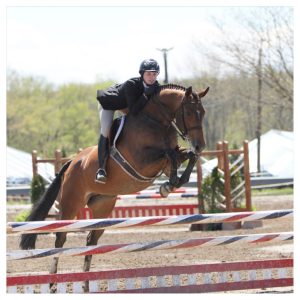 "My daughter, Anna, has ridden with Someday Stables since she was six years old. She is quiet and reserved, but loves her sport. Caitlin is and always has been a wonderful teacher, helping her overcome any fear while bringing out the best in her as an equestrian. Someday Stables has been a home for her all through her childhood, and as a Mom, what more can you ask for? I trust them with my daughter, always have, always will."
– Mary Ellen Salamone, Caldwell, NJ
Horse Boarding
From it's pastoral views to it's arenas with the highest quality footing, Someday Stables is one of the leading boarding stables in Somerset County.
Someday Stables, the premier horse stable of Somerset County, NJ, is only minutes from major highways and offers amazing features and experienced staff so that whether you're a beginner or a veteran, you will feel at home.
Our full-service stable has a variety of features, including:
One of the largest outdoor arenas in the area.
A large, bright indoor arena with a dust control system and brand new GGT footing.
Some of the best turnout in northern NJ.
Heated viewing lounge
State of the art 23 stall barn with every modern amenity.
Outdoor ring with a full show course
Miles of trails
From our compassionate staff to our state-of-the-art facility, Someday Stables is truly the top stable for children and adults.
Horse Show Coaching
A great way to showcase your skills and grow, horse shows are perfect for kids. Each child has a place, no matter their skill level, in our supportive yet competitive groups. We attend more than 30 horse shows per year at both the local and national level, and we have a proven track record of bringing beginner riders from their very first lessons, all the way to national championship titles.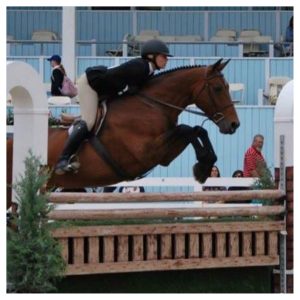 "I've been riding at Someday Stables with Caitlin Githens since I was 7 years old. Her constant support and amazing training landed me on a fantastic college equestrian team and helped me compete at the highest levels as a junior rider. Someday Stables is not only an incredible learning environment, but also an amazing family. We come together as a team when times get rough and support each other every step of the way. I can honestly call Someday Stables and Caitlin a loving and supportive home for myself and my horses."
– Morgan Moog, Newfoundland, NJ
Horses for Sale
From young imports to finished junior hunters, we always have horses and ponies for sale in a wide variety of price ranges and ability levels. We also have a few horses and ponies available for full or partial lease which is perfect for parents who want their child to get an introduction to horse shows without the commitment of horse ownership.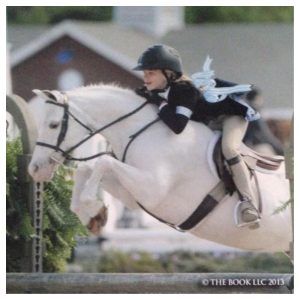 "After riding at a different barn my daughter made leaps and bounds both in her skills and confidence at Someday Stables. She is safe yet challenged by her trainer and enjoys the friendship of her other barn mates as the riders at Someday Stables share their simple love for horses."
– Kara Travia, Glen Ridge, NJ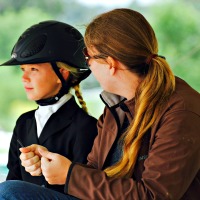 Caitlin is an expert in the horse industry. She has been involved with horses for more than 25 years and still spends nearly everyday with them. She specializes in leading beginners from their first ride all the way through Junior Hunter Finals, Devon, Marshall and Sterling Finals, and Pony Finals. With several national final finishes under her belt, Caitlin knows what it takes to have fun and win.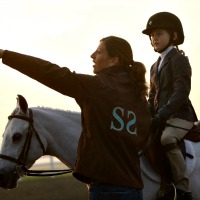 Anna knew from a young age that horses were her passion. She discovered her love for showing horses on the nationally recognized Mount Holyoke College equestrian team. Since then she has worked with Kristen Sunquist and Jill Robinson. She has taken her passion and skills to NJ to teach and assist students from their first rides through top horse shows.