This isn't just their home. It's ours too.
The Premier Horse Stable in Northern NJ
Someday Stables is one of the premier horse stables in northern NJ. We are conveniently located in Readington,NJ which is only minutes away from Route 78, Route 22, and Route 287.
Someday Stables offers one of the most picturesque horseback riding settings you will find in the NJ area. We offer a completely state of the art facility for the highest caliber horses and training.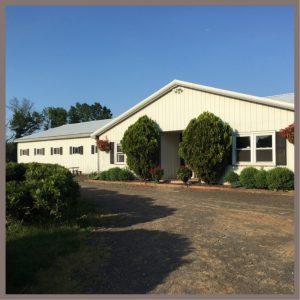 Indoor Ring
Someday Stables offers an indoor ring which includes:
Brand new GGT footing.
Beautiful jumps course.
Automatic sprinkler system.
Heated Viewing lounge.
We believe that it is vital to offer some of the best amenities in NJ to our horses and clients to ensure the experience exceeds expectations. We are constantly updating the jumps and footing in our indoor ring to keep it state of the art.


Outdoor Ring
During the warmer months, most of our riders enjoy using our beautiful outdoor horseback riding ring. Some of the amenities of our outdoor ring are:
All weather sand footing.
Beautiful jumps course.
Shaded viewing area.
Sprinkler system.
Drag N Fly arena groomer.
We've found that many of our NJ horseback riding clients prefer to use both the indoor and outdoor rings. We are always working to improve each area and add new features to improve your horseback riding experience.

Barns
Inside our NJ horse barn you'll find:
2 Wash stalls with hot water and infrared overhead heaters.
23 Large matted stalls.
Many sets of crossties.
Heated tack rooms.
Cozy barn lounge with heat, air conditioning, and a fully stocked refrigerator.
Separate well organized feed room.
Grooming stall with horse vacuum and infrared overhead heater.
All stalls and grooming stall are equipped with an automatic fly spray system

Turnout
Someday Stables offers:
Some of the best turnout in Northern NJ.
15 Large grass fields.
6 All weather stone dust paddocks.
2 Medical paddocks.
Brand new 3 board fencing.
All turnouts equipped with electric fence to ensure safety of our horses.
Overnight turnout during warmer months.
Group and Individual turnout offered tailored to each horse's needs.
We believe that regular turnout is important to every horse's well being. We provide group and individual turnout based on each horse's needs.