Beginner Horseback Riding Lessons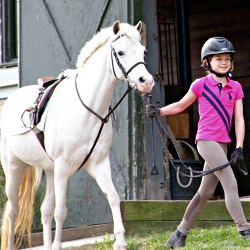 If you're thinking of signing up for horseback riding lessons rest assured that you are taking the first step towards a very fun and rewarding activity!  Horseback riding involves a partnership with a living, breathing animal. However, it is a sport and to do it well you need to learn the basics before you can move on.  At Someday Stables, in northern NJ,  riders can expect to develop a strong understanding of the fundamentals.  This includes an understanding of the animals, the sport, and how to interact with horses safely and confidently.
Getting Started
What can you expect at a first horseback riding lesson? At Someday Stables, your first lesson begins with greeting and getting to know your horse.  Of course, the horse is a very important part of the equation and our school horses are the best!  Not only are they safe, but they are also perfectly suited to teach our riders.  Your first lesson will include:
Leading: Learn the proper and safe way to lead and handle your mount.
Mounting: In order to ride, you need to know how to get on! Learn the correct way to mount your horse.
Balance and Position:  Once you're on the horse, you'll develop a sense of balance and how to position your body.  One of the biggest parts of learning to ride is achieving a secure seat.
Stopping, Starting, and Steering:  Your instructor will teach you the aids for the basics of controlling your mount.

Clothing and Equipment
You will need the following:
Long pants that are comfortable
Hard sole, closed-toe shoe with a heel (no sneakers)
Hair tied back and away from face
You will also be required to wear an approved helmet, although Someday Stables can provide you with one for your first few lessons.
          Tack and Equipment for the Horse
The gear that the horse "wears" is called tack.  Your horse will be outfitted with the following:
Bridle:  The piece that goes on the horse's head
Saddle:  What you will sit upon
Saddle Pad:  Protects the horse's back and the saddle
Riding Lessons for Children
What age is appropriate to begin taking lessons? All children are different and learn at their own pace.  We find that six year olds have the attention span and body awareness to begin learning to ride.  How much your child will take away from the lesson will depend on their maturity level. Some very young children are able to focus and grasp the basics quickly while others are just enjoying a pony ride. Either is fine as long as everyone is safe and happy!