Horseback riding in New Jersey: Lessons are better than a trail ride.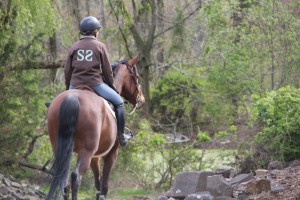 "Why can't I just come ride a horse without taking a lesson?"
This is one of the most common questions we are asked. Many people who are interested in horseback riding in New Jersey are not interested in taking a lesson, even if they have very little riding experience. Oftentimes, they are disappointed when we tell them we do not offer trail rides or riding of any kind on our horses unless it is in a riding lesson. Here some reasons why you can't just come ride a horse at Someday Stables.
Safety
There are many reasons why we only offer lessons but safety is the primary one. Horseback riding is an inherently dangerous activity but we do our best to make to it as safe as possible. We do this by providing one on one instruction to all of our riders, allowing us to ensure riding is being done correctly and no unnecessary risks are being taken. We also know our school horses inside and out. If they look too energetic, we can lunge them or structure the lesson according to how the horse is feeling that day.
Our Great Horses
We care about our lesson horses. They are the backbone of our program and we strive to provide the best quality lesson horses and ponies in northern New Jersey. Great lesson horses stay great through constant training and correct, kind riding. Every ride on every school horse in our stable is carefully supervised in our lesson program. In this program we are confident that our lesson horses stay responsive, safe, and happy to do their jobs.
Liability
There is an inherent risk in riding horses. Our goal is to provide a safe environment for everyone at our stable. When a rider is riding in an unsafe manner it not only puts that rider at risk, it puts all riders at our stable in harms way. For this reason, our insurance provider does not allow Someday Stables to permit beginner riders to ride our stable owned horses if they are not in a supervised lesson.
If you are interested in horseback riding in Northern New Jersey, consider taking a lesson. Instruction helps you get the most out of your time in the saddle. Our highly qualified instructors make sure you have a great ride that is beneficial to both you and the horse.